In 1879 Thomas John Edmonds, then 20 years old, stepped off the sailing ship Waitangi at Lyttelton. Thomas was born in London in 1858 and had worked for Allen and sons, one of London's largest confectionery firms.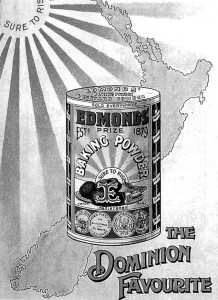 Thomas and his wife Jane soon opened a small grocery store in Linwood, Christchurch where Thomas learned from his customers of their dissatisfaction with the unreliable baking powder products they were able to purchase at the time. In response to their comments he began making his own baking powder out the back of his shop. His first batch of 200 tins went on sale in 1879. One customer reputedly questioned the superiority of the product over the one she was currently using.
Edmonds is said to have replied "It is sure to rise Madam" and so the famous Edmonds promise was born. From this comment the iconic rising sun logo and Sure to Rise trademark were developed, both of which still appear on Edmonds Baking Powder today.
Thomas spent 3 years perfecting his baking powder but demand for Edmonds Baking Powder was initially low so Edmonds travelled the Canterbury region leaving free samples with almost every household, promising to take it back on his next visit if anyone was unsatisfied.
No tins were returned and the householders asked for more. Demand slowly grew until its popularity spread from the housewives of Canterbury to span the whole of New Zealand.
Edmonds Baking powder also won a prize at the Dunedin Exhibition in 1890. As the 19th century drew to a close Edmonds moved to Ferry Rd, Christchurch and in the expanded premises increased production of Edmonds products.
Edmonds Baking Powder went from strength to strength and by 1912 one million tins had been sold. Thomas Edmonds was not only a successful businessman but a pioneer in industrial policies, during the Depression the company was the first to introduce a five day, 40 hour week which enabled redundancies to be avoided.
When the Edmonds company turned 50 in 1929 Thomas Edmonds generously gifted the city of Christchurch with a clock tower and band rotunda.
Today the Edmonds range of products has grown to include not only baking ingredients but flour, cake mixes, pastry, mayonnaises and salad dressings and the Edmonds brand still stands for Kiwi home-style cooking and baking.