Pat Jacques' Coffee Cake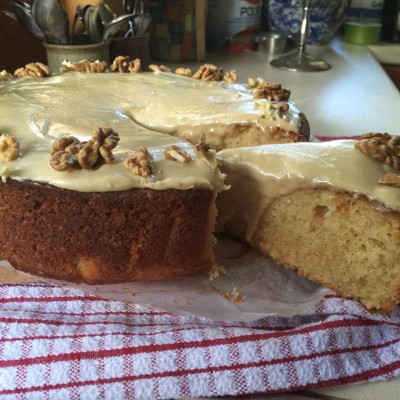 Ingredients
1 ½ cups sugar
2 large eggs, at room temperature
¾ cup plain unsweetened yoghurt
1 cup vegetable oil
½ tsp vanilla essence
1-2 shot espresso coffee, to taste (or 4 Tbsp hot water with 2 Tbsp instant coffee dissolved in hot water)
2 cups Edmonds Standard flour
2 tsp Edmonds baking powder
½ tsp baking soda
Pinch salt
Icing sugar

Icing Ingredients
1 cup icing sugar
25g soft butter
1 shot espresso coffee, or 2 Tbsp hot water and 1Tbsp instant coffee
A little hot water to mix
Walnuts for garnish
Method
Beat the sugar and eggs well.
Add the yoghurt, oil, vanilla and coffee gradually
Fold in the sifted dry ingredients gently
Bake in greased 21cm tin (175

ºC

in a classic bake oven for 50 mins, or 155

ºC

for 60-70 min on 155

ºC

fan bake). Remove as soon as a skewer comes clean and the cake springs back in the centre.
Prepare the icing by combining all ingredients
Spread the icing on top of the cake, and sprinkle fresh walnuts around the edge.
Customer Comments