How to make a perfect fruit cake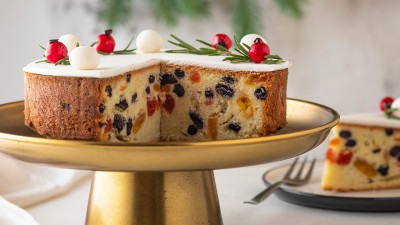 Since fruit cakes cook for several hours, it is best to line the cake tin with baking paper, and then tie two layers of brown paper around the outside of the tin. This helps stop the outside of the cake from becoming dry before the inside is cooked.

Bake fruit cakes in the lower half of the oven at a low temperature – around 140-160°C.

To test when the cake is cooked, insert a fine metal skewer into the centre of the cake and pull it out. There should be no cake mixture adhering to the skewer and the skewer should feel hot to the touch.

If the top of the cake seems to be browning too quickly cover with tinfoil or brown paper.

When the cake is cooked, place it, in its tin, on a cooling rack and cover it loosely with a clean cloth. Allow the cake to cool in the tin. This can take several hours.

Once the cake has cooled, you can pour over about ½ cup brandy or rum to keep it moist and improve the flavour. If the top is crusty, make little holes with a skewer or toothpick to help the brandy to soak in.

To store, leave the baking paper on the cake and wrap it securely in tinfoil.

Keep the cake in a lidded tin in a cool dark place.

Allow a rich fruit cake to mature for several weeks before cutting. This helps stop the cake from crumbling as well as improving the flavour. To cut the cake, use a very sharp knife – one with a serrated edged works well.